A Step-by-Step Guide to Gmail Sponsored Promotion
Email is currently considered the second most effective medium of communication worldwide, behind face-to-face conversations.
This is why us marketers have been harnessing our email databases to deliver special offers or timely reminders of our expertise to users' inboxes.
The problem with this approach is that newsletters, which up to very recently were the preferred tool in the email marketing arsenal, are becoming obsolete.
Taking their place will be Gmail Sponsored Promotions (GSP)
Here we will be looking at Gmail Sponsored Promotions in detail.
What exactly are they and how do they work?
Perhaps you've heard about this new feature but are yet to test it out. Or, you may not even have heard about it. We'll be covering pretty much every aspect of the sponsored promotions, from formats to ad types and set-up strategies to targeting.
I will also throw in a few expert tips that can help you get the most out of your GSPs campaign.
Each section of the guide is clearly headed so you can easily skip through bits that you're already familiar with.
Contents;
Section 1: What are Gmail Sponsored Promotions (GSPs)?
Section 2: How much do the promotions cost?
Section 3: Where will they appear (device and account types)?
Section 4: What are the benefits of using GSPs?
Section 5: Tactics and strategies for using the sponsored promotions
Section 6: Formats, Image size, and character limits – GSPs specs
Section 7: Ad types when considering GSPs.
Section 8: Success tips when using GSPs.
Section 1: What are Gmail Sponsored Promotions?
Ever since Google became the search engine of choice, the giant has been working on all fronts to improve its delivery of personalised ads.
The main aim has always been to make browsers (the people who are browsing) aware of services or products that might appeal to them.
Pay-per-click (PPC) was just the beginning and it worked remarkably well, allowing advertisers to reach their target audiences with the right messages at the right time. GSPs are just a continuation of those efforts.
The only difference is that PPC ads targeted Google's search engine while GSPs target a Gmail Inbox.
Gmail is already used by over 900 million people, a majority of whom check their inboxes every single day.
Google believes it's wise to allow advertisers to tap into every opportunity.
The Gmail sponsored promotions allow you to send advertisements directly to a consumer's personal inbox based on their location, browsing history, and interests.
When the consumer searches for keywords that you've chosen or receives a digital receipt from a product that's similar to your own, they will see your sponsored ads.
The ads look like this;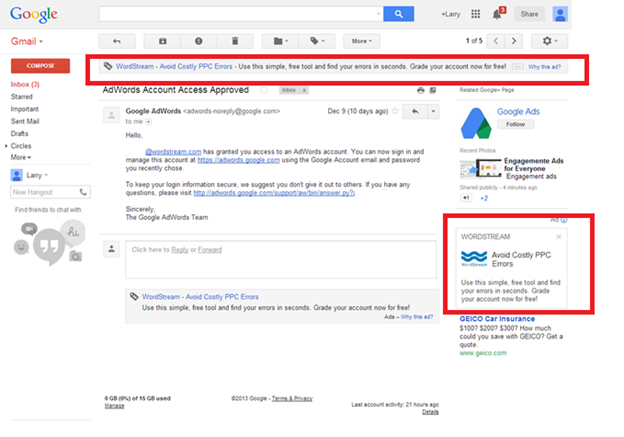 When the bottom message is clicked, the user will see the following;
Section 2: Budgeting
In GSPs, you're charged per click. However, you're only charged when a user interacts with your ads.
As in, you'll be charged if the user clicks to view your advertisement. There are no further charges even if they proceed to click to visit your website.
The images above are a good example. When the user clicks on the email item in the inbox as shown in the first image, the advertiser will be charged.
However, if the user then clicks "Go Go Go" in the second image, there are no additional charges.
There are a few other things you may want to know when budgeting for your Gmail Sponsored Promotions' campaign, starting with the limited ad spots.
GSP inventory is limited with only one ad spot available in the primary tab and two more spots available in the promotions tab. So, it's very competitive; either you're in or you're out.
For this reason, we recommend that you bid aggressively from the very beginning. Also, tweak your bids from time to time to access the full extent of impressions.
Either that or you must be prepared to spend a significant budget and accept a higher cost per acquisition. If not, then maybe GSPs might not be your thing.
Bidding is CPC based and there is a Conversion Optimiser available as well. Before you start bidding, review the CPC strategy that has worked well for you in display advertising. This should be your starting point.
Essentially, the same principles of value used in other CPC strategies apply: you need at least one conversion per day for at least 30 days to establish a strong Customer Value Optimisation (CVO).
The more volume you have in a shorter time, the better off you are.
However, if your CVO isn't getting you enough impressions, then it might be wise to increase your CPC bid.
Section 3: Where will they appear (device and account types)?
Gmail Sponsored Promotions appear on both mobile devices and Desktops.
Due to the high competition, there are very few slots available on either device with only one slot being available on mobile and only two being available on PC.
There have been complaints from a few advertisers about the value of ads being bundled in the promotions tab. But you shouldn't be really worried because a lot of genuine emails also land in the promotions tab.
Google then sorts all emails coming through and decides which ones go under which tab. If they feel that a message is promotional, it is placed under the promotions tab.
So, a lot of people still check the promotions tab.
In a report by Marketing Land, it was found that only about 21% of Gmail users have turned off the Promotions Tab. This means that you can still reach close to 720 million Gmail users through the tab.
What's even more interesting is that those who turned off the Promotions Tab received all promotional messages in their primary inbox – even better for advertisers.
The Marketing Land report shows that frequent shoppers and discount hunters were the first to disable the Promotions Tab.
Why …because they want all the important messages in their primary inbox.
When there are price cuts at their favourite stores, they want the message in the first place they check on Gmail – the primary tab of the inbox.
The study also found that even those who retain the Promotions Tab are now more likely to see your promotional messages.
The reason is simple.
In the past those who typically find promotions annoying would simply mark your messages as spam and bin you to the junk folder.
Not anymore. With the Promotions Tab in place, they don't have to mark you as spam because your messages will appear in a different tab and they can only check that tab when they want to.
It's one of the best things that has happened to Gmail advertisers in a long time.
Here's a graphic from the Marketing Land report showing the popularity of the Promotions Tab;
You can clearly see that the Promotions tab (second from left) is still quite popular.
Section 4: What are the benefits of using Gmail Sponsored Promotions
There are at least three key advantages of GSP as an advertisement tool:
1- They are highly targeted
Standard Google Display Network ads are based exclusively on cookies. When a user makes a search for a particular item, it will be assumed that they are interested in that type of service or product.
That user will then be followed around with similar ads in the hope they will click on those ads.
Gmail Sponsored Promotions are different. While they also take into consideration the browsing habits of a user, they make use of several additional factors, especially the information provided by Gmail users when signing up for an account.

For instance, by checking a user's Gmail account, you can accurately determine where that user lives.
This makes it easy for advertisers to target by location.
For example, you can choose to limit your ads to consumers within Melbourne.
2- They are great for generating awareness
GSPs are a "push" tactic. They are best suited for generating awareness among a specific target audience.
That said these ads have also proved they can help marketers to convert sales. It all depends on the quality of your ads.
People will be able to see your ads and from there they can decide whether or not to click through and make a purchase.
Chances of this happening drastically increase if your value proposition is good.
However, don't expect a lot of sales.
Instead, you should focus on driving awareness and generating exposure for both your brand and your products.
You could also try to get those viewing your ads to sign up to your email campaign.
3- They are cost effective
Of course, this depends on how you look at the campaigns.
We just mentioned in section 2 that GSPs are not cheap.
You need to be prepared to spend significant amounts to get results from the campaigns.
However, lots of marketers are yet to discover the usefulness of Gmail as an advertising platform because the program itself is just a few months old.
So, the high prices might get even higher as demand increases.
Secondly, it has been found that if you can convert just 1% of visitors who click through to your website, you'll find the cost per acquisition to be great.
Section 5: Targeting options, tactics and strategies for using the sponsored promotions
Targeting
Starting with targeting, you can use the following options within the GSP platform;
– Demographics – age, gender, and parental status
– Location – you are allowed to target one location per campaign
– Languages – language targeting is based on the user's Gmail language settings
– Topics – topics are based on the user's active inbox
– Customer matching Adwords – you're allowed to upload a list of email addresses
– Display keywords – this is based on broad match content in the user's last 300 emails received in their inbox
Exclusion is also allowed.
In fact, you can easily exclude any audience based on the above targeting options.
That said there are a few things in the basic Google Display network that you won't find in GSPs.
The first one is remarketing.
This may come as a shock to many advertisers considering the powerful nature of remarketing campaigns.
But, yes, it's not on GSPs.
The other targeting strategy missing here is In-Market Audiences.
Tactics
There are several approaches you can follow as you try to gain the most from your Gmail Sponsored Promotions campaign.
We'll discuss the top five options;
1- Use it to reinforce your email marketing
The goal here is to "force" the recipient to read your messages.
Since they are likely to bin your marketing emails that go directly to their inbox, you can use GSP to keep the message in their inbox even if they delete the original.
Simply send Gmail Ads with the same message you had in the marketing emails.
For those who opened the marketing emails, you can send Gmail ads that help take them to the next step of the buying journey.

2- Reach new audiences that show similar characteristics to your top converting customers
Go to "Similar Audiences" in Google AdWords Customer Match email list and upload a list of your highest converting customers.
Then, the GSP platform will help you create a users list similar to the first.
It's a simple but effective way of breaking into new high-potential territories.
Google hasn't explained yet how it determines the matches.
But the strategy itself works.
3- Upsell to your existing customers
This is rather straightforward.  
If you have a few loyal customers who always buy from you, you can use the GSP service to update them on any new arrivals, seasonal sales, discounts, and other promotions.
For example, if the user just purchased an iPhone, you can use the GSP service to upsell items such as iPhone cases and iPhone insurance.
4- Generate phone call enquiries
This is also very simple. Include your phone number in the ad unit before sending the emails.
You can choose to include the phone number in the ad creative in the accompanying content.
When the user finds the number, they may decide to call you for more information.
To make your campaign measurable, use a unique phone number generated by call-tracking software.
This way you'll be able to identify all calls generated by the GSP.
5- Target your competitor's customers
This is the tactic that most advertisers are using GSP for.
All you need to do is add your competitor's domains and even names as keywords in your ad groups.
Your ads will show in the inboxes of these competitor's customers.
With that covered, all that remains is to convince them that you offer better deals (prices, discounts, etc) than your competitor, forcing them to switch.
A word of advice here – if you decide to "steal" your competitor's customers, go for the big corporations with bigger email databases.
They promise the highest returns on investment.
Section 6: Standard GSP Components – Format, Image Size and Character Limits
A standard GSP has the following basic components;
A logo – image size 140px x a140px
That's a very small size for a logo but it's all you've got available.
If you're an established business, then just put a small version of your brand logo here.
If your brand logo isn't yet widely known among your audiences, change the image with one that is more familiar to them.
The advertiser  – character limit is 15
The advertiser is where the email is coming from.
Most established brands would just put their brand name here.
But if your brand name can't fit there, just use your main keyword such as "GSP Experts."
Subject – character limit is 25
This is similar to the subject in normal emails.
Try to make it relevant to the message in the expanded message.
Again, the limited space means you should be very economical with space.
Try asking a question or make a striking statement such as limited discount.
Description – character limit is 100
This is like the body of the ad and appears just under the subject line.
Make it compelling, giving users a reason to click on your CTA.
Section 7: Ad Types of Gmail Sponsored Promotions
There are five basic types of ads you can use within the Gmail Sponsored Promotions platforms.
Each ad type has its pros and cons but those with image plus text perform better.
Single Image Ads
Single image GSP ads work best if your product or service is heavily visual and there is no need to provide further explanation through text.
It also works well if the image used already contains text that sufficiently describes whatever message you're trying to convey.
Single Promotion Ads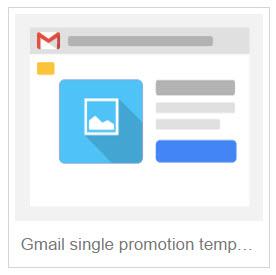 This works just like the single image ads except that in addition to the image, you also provide descriptive text.
You can also add a headline for the text section.
Single promotion ads work best if the image alone cannot convey the message you're trying to pass.  
Use the text to expound the message.
Multi-Product Ads
These ads contain six advertising fields designed to contain six different ads.
Each of the six ads will have its own image, a title, and a call to action (CTA).
Multi-product ads work extremely well for retailers.
You can use each ad space for a different product.
Or, you can use each space to highlight the benefits of your services.
Catalogue Ads
Catalogue ads are more or less a mixture of the multi-product ad and the single product ads we saw earlier.
To the left is the main image.
Then on the right lies a single title for everything within the ad and as well as a single description.
Below these is a space for at least three products, each with a CTA.
Custom HTML ads
Finally, you can upload your own HTML ads if you or your web developer has the skills to develop the ads.
There are a few added advantages of custom HTML Gmail ads.
First, you can ask your Google rep to enable your ad to use Click-to-Call so that users can directly call you by clicking a link in the ad.
Secondly, you can also upload a HTML form within the ad which allows you to collect user data such as email addresses directly.
Third, you can also embed video and multiple CTAs within the ad.
Section 8: Success tips when using Gmail Sponsored Promotions
First, you must understand that getting users to click through to your website is very difficult.
A few may choose to visit your site, but most users aren't usually ready to make a purchase at the time they interact with the ads, so they may just read your email to see what you have for them.
Try using incentives such as discounts and free trials to encourage click throughs.
Here are a few tips that may help you build a more effective GSP campaign:
– Make your expanded ads email-like to allow the user to gain some value from the message. Don't just put a huge banner there.
– Create different ad groups for each targeting type. This makes tracking easier and it will also allow you to elevate best performing ad groups and assign them their own campaigns.

– Ensure that your teaser ad, the expanded ad, and your landing page all carry the same message. This continuity minimises chances of bounced visitors.
– Consistently split test to improve the performance of your ads. Some of the features you can split test include images, CTAs, text, and even titles and subject lines.
Final Thoughts…
I love when an untapped advertising opportunity opens up for business owners.
While the platform evolves and learns its true value to deliver quality traffic to your website, you will have an opportunity to buy greatly undervalued clicks.
Just like AdWords or Youtube before the market got flooded I would go all in on Gmail Sponsored Advertising before the competition beats you to the Inbox.