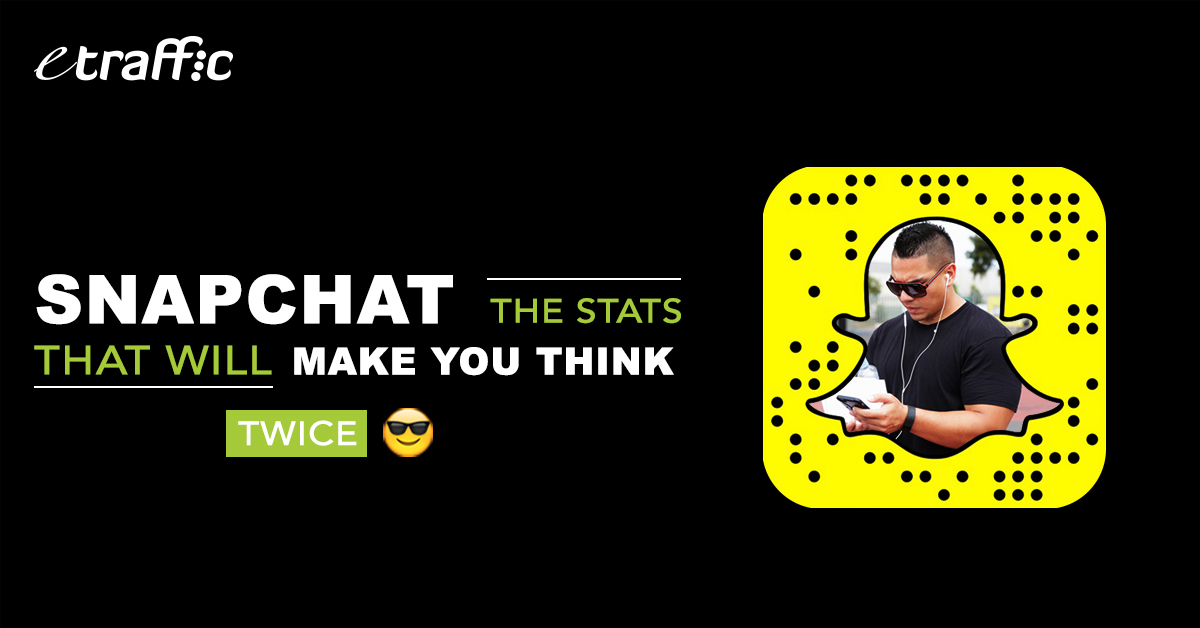 Gone are the days when Snapchat was a glorified mobile app for dick pics and sexting teens.
Snapchat has evolved to become one of the most powerful social apps today.
Thanks to a stream of new features and frequent updates, Snapchat has gradually gained popularity with digital marketers, brands, celebrities, and athletes to an extent that it has become indispensable.
Unlike most of its competitors, Snapchat has concentrated on adding "authentic value" to brands.
Here are the most recent Snapchat stats that prove the app is here to stay:
1. More than 7 Billion Videos Delivered to Users Daily
By September 2015, Snapchat was only delivering 4 Billion videos to users daily. However, by the time of writing this guide, this number, as reported by Bloomberg, had risen to 7 Billion videos daily!
This translates to a leap of almost 50% in less than 4 months.
Comparing these stats with those from Facebook will show you just how incredible Snapchat is.
By October 2015, Facebook was delivering 8 Billion videos to users per day. But don't forget that Facebook has 15 times more users than Snapchat.
It is clear that Snapchat is winning the attention game.
This is particularly true when it comes to sharing mobile video content.
Why Does it Matter?
Mobile video is becoming a favourite with advertisers. In 2015, companies in the U.S. spent an estimated $7.46 Billion in mobile video advertising.
According to eMarketer, this is more than 42% of what advertisers spent on mobile video advertising in 2014, and this number is on an upward trajectory.
If you are considering advertising on Snapchat, consider having video marketing content for the Snapchatters.
2. Users watching Snapchat vertical videos could get 9 times more engaged than users watching horizontal videos
Snapchat might have revolutionised the way users interact with mobile video
Instead of the more familiar horizontal display, Snapchat went for the vertical display.
According to Snapchat's internal research, users are 9 times more likely to complete watching a vertical display video than a horizontal display video.
Snapchat's research might be on point. While many users are accustomed to watching horizontal videos on movies and television sets, most are used to using their phones in the upright position. This can explain why vertical screens have been edging out horizontal screens since 2011.
Why does it matter?
"Users who watch a video to the very end are more likely to respond to a call to action than users who stop watching the video midway"
It goes without saying that marketers put their strongest CTAs at the end of a video.
3. 65% of Snapchat's users upload New Photos Daily
A social media network is only as effective as the number of active users that are active and engaged.
Snapchat could be one of the social networks with the highest number of active users.
Up to 65% of its users post new photos on the social network every day without fail.
These users consider Snapchat an extension of their personal brand, and not just another place where they go to passively receive news.
Facebook, which has for long been known as the biggest social network in the world, has 35% of its users posting new photos on a daily basis. In fact, Facebook does not measure the number of visitors who visit the platform daily, opting to measure those who return to the platform every 30 days.
Why does it Matter?
The level of engagement on social media is a key metric that marketers use to decide whether a platform is worth their time and resources.
The more engaged users are, the more likely they will share posts, talk about its products, and develop an affinity for any offers.
The most engaged users make the best customers. Again, since Snapchat is not oversaturated with marketers, it requires less time and budget for marketers to gain some attention.
4. Snapchat has the 6th highest concentration of millennials
According to data collected by ComScore, 76% of millennials are active on Snapchat, making it the sixth most popular social network among millennials.
The analysis also shows that millennials (aged between 18 and 34 years) spend at least six hours on the platform every month. Facebook comes first at 25 hours while Instagram comes second at seven hours per month.
The difference, however, pales when you consider that both Facebook and Instagram are relatively older than Snapchat.
Why Does it Matter?
If your product or services are targeting millennials, there is no other better place to reach them than where they hangout.
76% of them are on Snapchat, and that tells you a lot.
Apart from the numbers game, saturation is another advantage of using Snapchat as opposed to the other social media networks where millennials might hang out. Unlike Facebook, Snapchat is yet to be saturated with advertising.
5. More senior ad buyers are planning to start advertising on Snapchat
Early adopters on any advertising medium enjoy a number of privileges. Not surprising, a number of tactful marketers have been eyeing Snapchat's development with a keen eye.
In January 2016, eMarketer reported that more advertisers that are senior are shifting most of their advertising dollars to Snapchat.
Although this data might not be conclusive as some of these ad buyers are already buying ads on Pinterest and Instagram, the number of advertisers looking to start advertising on Snapchat is still significantly high.
Either these marketers are willing to take the risk of trying a new advertising medium or they have data from Snapchat that shows the exact demographic of users on the platform.
Why Does it Matter?
Savvy digital marketers have learned that jumping onto a new digital advertising platform as soon as possible comes with huge benefits. Early adopters enjoy a less saturated platform where their brands have a good chance of standing out of the crowd.
My Summary
Although Snapchat advertising, which starts at $100,000.00 might be out of reach for most small businesses, we can still take advantage of the unsaturated platform to engage with our community.
Businesses can take full advantage of Snapchat by creating entertaining stories and showing consumers, buyers, and your market why your brand is so great.