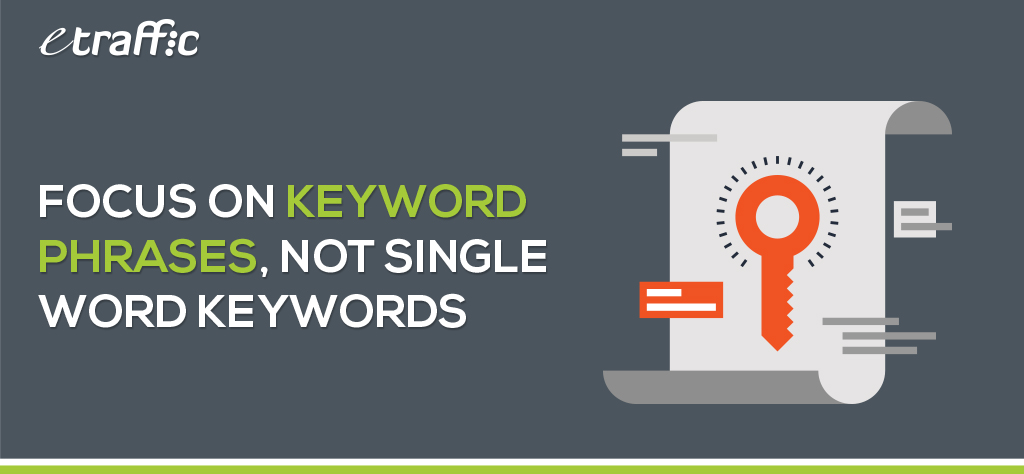 Have you ever tried to rank your website for single word terms like "shoes", "plumber" or "dentist" instead of keyword phrases like "red Prada shoes for women", "emergency plumber in Melbourne" or "Brisbane cosmetic dentist"?
If you've tried the former, then you know that it is ridiculously hard to rank for single word keywords. They often require time and considerable capital. This is particularly true if you're in a very competitive industry. In any case, there's no guarantee of getting those top positions.
In digital marketing, single word keywords are called broad terms. They are generally avoided by savvy web marketers. That's because they are unnecessarily competitive, while the traffic is often untargeted and generic.
This is why you should target keyword phrases. These long tail keywords are often specific and the best for securing high search rankings.
Why is that?
They have high conversion rates which means you'll be able to get more visitors to take action;
The searches are more specific and can translate into significant income;
Easier to rank for;
Require less capital;
Can be interchanged with LSI keywords – geek-speak for synonyms; and
Can generate huge long term traffic
So now, which do you prefer? Single word keyword terms that may generate income or the more specific keyword phrases guaranteed to deliver significant ROI? We bet it's the latter.
However, the major challenge you might have with keyword phrases is finding them. It requires a certain knowledge and skillset. You can dig around for ages without finding anything decent. This is why you should let the SEO experts at eTraffic take care of this for you.
Find high conversion keyword phrases today.